---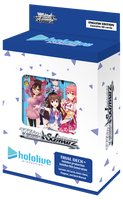 Trial Deck+ hololive production 0th Generation
hololive production has arrived! The vtubers make their dazzling debuts on the stage of Weiß Schwarz!
Gather your favorite talents and construct your dream decks with the simultaneous release of all seven Trial Deck+!
Each deck contains one SR card, as well as one RRR or SP (Sign) card! Parallel cards are randomly sealed into decks!
[RRR] Rare cards with special embossing (14 types)
[SP] Sign card of talents (4 types)
Product specifications
19 types of cards + 19 parallels
50 Cards per Deck, 6 Decks per Display
8 Displays per Carton
☆★☆★☆★☆
The cards in these Trial Deck+ may be used together with cards which have their card number beginning with 「HOL/」!
※Rules Sheet, Playmat, and Deck Manual included
※The contents of each deck (excluding parallel cards) are exactly the same.